Books

We have a comprehensive range of quality books.
Only some of them are listed here. 
If there is a book or CD we do not have in stock, please ask us to order it for you.
We also have a second hand book section.  Please feel welcome to bring in your own books to exchange for other products or a credit voucher at Yes 2 Life;
For FREE downloadable EBooks:
An example of some of the many books available at Yes 2 Life...

Book: Dying To Be Me
by Anita Moorjani
Also available in Audio CD.

In this truly inspirational memoir, Anita Moorjani relates how, after fighting cancer for almost four years, her body-- overwhelmed by the malignant cells spreading throughout her system-- began shutting down. As her organs failed, she entered into an extraordinary near-death experience where she realized her inherent worth... and the actual cause of her disease.

Upon regaining consciousness, Anita found that her condition had improved so rapidly that she was able to be released from the hospital within weeks... without a trace of cancer in her body!

Within these pages, Anita recounts stories of her childhood in Hong Kong, her challenge to establish her career and find true love, as well as how she eventually ended up in that hospital bed where she defied all medical knowledge. As part of a traditional Hindu family residing in a largely Chinese and British society, she had been pushed and pulled by cultural and religious customs since she had been a little girl. After years of struggling to forge her own path while trying to meet everyone else's expectations, she had the realization, as a result of her epiphany on the other side, that she had the power to heal herself ... and that there are miracles in the Universe that she had never even imagined. In "Dying to Be Me", Anita freely shares all she has learned about illness, healing, fear, "being love", and the true magnificence of each and every human being! This is a book that definitely makes the case that we are spiritual beings having a human experience... and that we are all One!

Book: A Primitive Diet
by Beverley Southam

Discover a whole new world of culinary delights you never thought possible with 'A Primitive Diet' by Beverley Southam. Born into a family of prize winning cooks, Beverley has a unique talent to make simple unprocessed food incredibly tasty. Make your special diet exciting with recipes that are all: Dairy free, Yeast free, Sugar free, Wheat free and Gluten free.

Entertain family and friends on your special diet without them knowing it's supposed to be diet food. 'A Primitive Diet' is a book packed with information and recipes especially for people with Candida Albicans, Coeliac Disease, Irritable Bowel Syndrome, Ulcerative Colitis, Crohn's Disease, Multiple Sclerosis, Asthma, Eczema, Psoriasis, Acne, Autism, Food allergies and intolerances Or anyone wanting to be healthy.

Book: 'This is REIKI, Transformation of Body, Mind and Soul, From The Origins To The Practice'
by Frank Arjava Petter (Lotus Press)
Review by Lorraine George

Books don't usually come with a caution label, but this one should. Be prepared to: be mesmerized by the flow of words on a page; be warmed by Arjava's passion for the subject; inhale the story of Reiki's journey at the level of your soul; and most of all, lose track of time.
If you've met Arjava, you'll recognize his voice. It's as if he is sitting across the table, sipping a hot coffee, relating his delightful adventure into the Japanese world of Reiki. He introduces us to Usui Sensei's ancestors, and gives us a peek into the original Reiki Ryoho Gakki. We travel in time from Usui Sensei's birthplace to his memorial. We meet Hayashi Sensei and the Yamaguchi family. This is an up-dated history of Reiki, based on written journals, documents, family photos, and interviews. Arjava tells us the background story – the history and spiritual culture of Japan – so we get a better understanding of the events that influenced the development (and later decline) of Reiki in its place of origin.
And then we are off to Sacred Reiki sites. More than a travel guide, Arjava uses personal stories, and at times, humor, as we meander from one site to the next. This chapter is plush with photographs.
He goes on to tell us about the deities and spiritual practices that are rooted into some of the beliefs and techniques of the Reiki we do today. This tapestry of spiritual identity helps to explain the dynamic realm of guidance and power, available to us in Reiki practice.
The final chapter covers healing with Reiki, including perception exercises, Gassho Meditation, and Japanese techniques. There are also interviews with Fumio Ogawa Sensei, and Chiyoko Yamaguchi Sensei.
Although designed for those who teach, this book is a valuable resource for everyone who practices Reiki. I would also recommend it for those who have an interest in learning more about this simple, yet powerfully effective, Japanese healing art.



Book: The Power of Inner Peace
by: Diana Cooper

In The Power of Inner Peace, leading metaphysical writer Diana Cooper offers inspiration to everyone who is seeking greater meaning and happiness in their life. Giving practical advice and using case histories from her own work, she helps us make the journey to the peaceful world that lies within each of us. When we connect with this quiet centre, we can face our fears, regain our confidence and find the strength to heal ourselves.

In today's fast-paced and stressful world, The Power of Inner Peace will enable you to find your own personal haven of peace and tranquillity.



Book: Discover Atlantis
A Guide to Reclaiming the Wisdom of the Ancients
by: Diana Cooper & Shaaron Hutton

Discover Atlantis reveals fascinating knowledge about Atlantis and how to harness its unique powers in your own life. Diana and Shaaron Hutton have worked together closely to channel and present a comprehensive and compelling guide to Atlantis. This seminal book is essential reading for all those seeking to develop their spiritual potential. It covers all aspects of life in the halcyon period of the ancient civilisation from government and social structure to their use of crystals, psychic practises and advanced technology. Diana and Shaaron include exercises, some practised by the High Priests and Priestesses, and offer wisdom and guidance to help you reclaim the energy of pure Atlantis.



Book: Saved By An Angel
by Doreen Virtue

Do you wonder whether there are angels around you, who they are, and what they look like? In this inspiring work you'll read uplifting, true stories by ordinary people who have had extraordinary experiences. Doreen has combed through thousands of reports of angel visions to bring you the most touching and revealing accounts possible.
You'll read about children and adults who received lifesaving messages from their guardian angels, deceased loved ones, and ascended masters; and find out about helpful strangers who appeared from out of the blue during a crisis and then suddenly disappeared. Doreen also gives you step-by-step instructions that will help you see and visually connect with your angels!



All Is Well
by Louise L. Hay & Mona Lisa Schulz

This book is brilliant. This is a home run. Louise Hay has brought so much public awareness to the mind/body connection since the 1980's, and now Dr. Mona Lisa Schulz has taken those ideas to a level of deeper understanding. If you've enjoyed any of their previous works, this one is a no-brainer, you'll love it. And if you're new to the idea that our thoughts manifest in the body as conditions, you'll enjoy it too. The research that backs up the theory is astonishing. The authors do a great job of explaining how thought patterns affect the human body, and then go on to teach an integrated treatment approach; never a one size fits all prescription. The reader is given a lot of information on the seven emotional centers, and how and why they affect they body the way they do. At the end of each section case studies are offered, and their treatment plans are detailed. Patients were given daily affirmation work to help heal and strengthen their mindset. Diseases were treated, not just with medical drugs, but through adjustments in nutrition, supplementation, visualization, and exercise or activity levels as well. This book gives me hope that more people will get the lesson, and start taking responsibility for their health. This is a very empowering book. It could very well change, or even save your life.



Book: Children of the Fifth World
A Guide to the Coming Changes in Human Consciousness
by: P.M.H. Atwater, L.H.D.

Our species is evolving in preparation for the new world on the horizon.

Explains how the increase in intuitive, creative, and abstract-thinking abilities of children as well as incidences of ADHD, dyslexia, and autism signal evolutionary changes at work in humanity--the emergence of the Fifth Root Race.

Connects the appearance of these traits with ancient myths and evolutionary calendars as well as predictions by Teilhard de Chardin, Edgar Cayce, and other visionary seers

Reveals how these "new kids" act as agents for world change by reflecting back every misguided aspect of business, politics, religion, and culture.



Book: Miracles Happen
The Transformational Healing Power of Past Life Memories
by: Dr. Brian Weiss & Amy E. Weiss

In their revolutionary book, Miracles Happen, Brian L. Weiss, MD, and his daughter, Amy, examine the physical, emotional, and spiritual healing that is possible when you freely accept and embrace the reality of reincarnation. A leader in the field of past-life therapy, Dr. Weiss has helped thousands connect with their past lives and experience tremendous healing. In Miracles Happen, he and Amy share these remarkable real-life stories to reveal how past-life regression holds the keys to our spiritual purpose.

The awareness that we have multiple lifetimes, separated by spiritual interludes on the other side, helps to dissolve the fear of death and bring more peace and joy into the present moment. And in Miracles Happen, personal stories, accompanied by Dr. Weiss's inspiring teachings, reveal how getting in touch with our past lives can profoundly and permanently heal mind and body. In the end, we come away inspired, renewed, and assured of the truth that we are eternal beings who are free to heal our current wounds by better understanding our past. It's a practice that helps us improve our current lives, evolve along our spiritual paths, and live each day with purpose.



Book: The Three Waves of Volunteers & The New Earth
by: Dolores Cannon

This fascinating narrative reveals the cosmic forces that have been in play over the past 66 years. Help has come from the outside to preserve the human race. In 1945 when the atomic bombs dropped, our "protectors" and "watchers" in outer space saw that Earth was on a collision course with disaster. The prime directive of non-interference prevented them from taking any action, but then they came up with a brilliant plan to save Earth and assist her in her ascension. They couldn't interfere from the "outside," but maybe they could influence from the "inside." So the call went out for volunteers to come and help. "Earth is in trouble-who wants to volunteer?" Dolores Cannon, through her hypnosis work, has discovered three waves of these volunteers. Some have come direct from the "Source" and have never lived in any type of physical body before. Others have lived as space beings on other planets or other dimensions. Because all memory is erased upon entry to the Earth dimension, they do not remember their assignment. Thus these beautiful souls have a difficult time adjusting to our chaotic world. These souls have a vital role to play as they help all of the rest of us ascend to the New Earth.



Book: Superfoods
by: David Wolfe

Superfoods are vibrant, nutritionally dense foods that have recently become widely available and which offer tremendous dietary and healing potential. In this lively, illustrated overview, well-known raw-foods guru David Wolfe profiles delicious and incredibly nutritious plant products such as goji berries, hempseed, cacao beans (raw chocolate), maca, spirulina, bee products, and a host of others. As powerful sources of clean protein, vitamins, minerals, enzymes, antioxidants, good fats and oils, essential fatty and amino acids, and other nutrients, they represent a uniquely promising piece of the nutritional puzzle. Each superfood is described in detail, accompanied by easy and delicious recipes. This accessible guide presents persuasive arguments, based on sound science, for the pivotal role of superfoods in promoting nutritional excellence, health and well-being, beauty enhancement, sustainable agriculture, and the transformation of diet, lifestyle, and planet.

Book: Money & the Law of Attraction
by: Esther and Jerry Hicks

Abraham's newest book explains that the two subjects most chronically affected by the powerful Law of Attraction are financial and physical well-being. It shines a spotlight on each of the most significant aspects of your life experience and then guides you to the conscious creative control of every aspect of your life. It also goes right to the heart of what most are probably troubled by: Money and physical health. Not having enough money or not having good health puts you in the perfect position for creating more of that which you do not have. This book has been written to deliberately align you with the most powerful Law in the Universe—the Law of Attraction—so that you can make it work specifically for you.
Also included in the book is a free CD (excerpted from a live Abraham-Hicks workshop) that features the Art of Allowing your physical and financial well-being to come through.



Book: This Song's For You
by: Wendy Robb

I was married with three children and living in suburban Perth when I had a premonition that someone close to me was soon going to die. When my 19 year old son Wayne was killed just weeks later I began a spiritual journey that led me through a diverse range of experiences over a period of more than twenty years. During this time I discovered that we are more than a physical body; that everyone has the same potential for spiritual growth; and that help is always there for the asking.





Book: Body Ecology Diet
by Donna Gates

If you're experiencing discomfort, fatigue or other symptoms that won't go away no matter what you do or how many doctors you see, chances are you're one of the millions unknowingly suffering from a systemic fungal/yeast infection, "the hidden invader." The result of an imbalance starting in your internal ecosystem, this can be a key factor in headaches, joint and muscle pain, depression, cancer, food allergies, digestive problems, autism and other immune-related disorders.

The Body Ecology Diet reveals how to restore and maintain the "inner ecology" your body needs to function properly and eliminate or control the symptoms that rob you of the joy of living. Tens of thousands of people have already benefited from the Body Ecology way of life. Donna Gates shows you, step-by-step, how to eat your way to better health and well-being ... deliciously, easily, and inexpensively!
In this book, you will learn how to: use seven basic universal principles as tools to gain mastery over every health challenge you may encounter; focus on your inner ecology to create ideal digestive balance; conquer cravings with strategies for satisfying snacking and for dining away from home; and plan meals with dozens of delectable recipes, an array of menus and detailed shopping lists.



Book: Deep Truth
by: Gregg Branden

A new world is emerging before our eyes, while the unsustainable world of the past struggles to continue. Both worlds reflect our beliefs. Both exist - but only for now. Which world do you choose?
Bestselling author and visionary scientist Gregg Braden suggests that the hottest topics that divide us as families, cultures and nations - seemingly disparate issues such as war, terror, abortion, genocide, poverty, economic collapse and nuclear war - are actually related. They all stem from the false assumptions of an incomplete science. These obsolete beliefs have brought us to the brink of disaster and the loss of all that we cherish as a civilisation.
Deep Truth reveals compelling scientific evidence that: - Civilisation is at least twice as old as traditionally acknowledged. - We can avoid mistakes today that led to the collapse of civilisations past. - Nature "wired" us for peace and cooperation, not "survival of the fittest" and war. - Darwin's ideas about evolution fail to explain human existence. - We're at a rare and pivotal choice point in our existence.

How can we know what laws to pass, which policies to enact and how to head off the greatest threats to our survival until we answer the oldest question at the heart of our lives: Who are we? The deep truths underlying scientific discoveries now give us a way to do just that. Will we base the emerging world on the deep truths of life? We won't have to wait long to find out ...

Book: A Seed Of Love
by Cheryl Lee Harnish

What if you were given the chance to change the entire course of your life? What if you were able to overcome a lifetime of chronic depression and unrelenting beliefs that you had no path or purpose? What if one day the line between this reality and "the other side" vanished, and you discovered a multitude of hidden gifts and abilities you never knew existed? Through a series of astounding life-altering experiences of Divine Light and angelic presence, that is exactly what happened for Cheryl. Expect the unexpected in this profound true story that reaches beyond the paranormal to deliver a powerful and moving message of faith, hidden gifts, and following the heart. It's a captivating and inspiring journey into the hidden realms of Spirit, angels, the supernatural, and destiny.
"Deciphers the code of the heart through a triumphant journey of destiny and purpose."
- James F. Twyman, NY Times Bestselling author.


"A compelling page turner, Harnish's inspirational true story of learning to see beyond the veil will surprise and delight you, and it will keep you on the edge of your seat."
- Paul Elder, Eyes of an Angel.
Images and texts are from www.aseedoflove.com
Book: YOU CAN Create An Exceptional Life
by Louise Hay & Cheryl Richardson

Renowned spiritual teacher Louise L. Hay joins forces with Cheryl Richardson to reveal their process for living an exceptional life.
Travel with Louise and Cheryl throughout North America and Europe as they engage in a series of intimate conversations about their lives and how they've dealt with a variety of topics including loving themselves and their bodies; conscious ageing and a dignified, peaceful approach to death. This book is filled with the combined experience of two women who have lived their lives using trusted spiritual principles that really work. Reading and applying their wisdom will radically change yo
ur life, too!




Book: The China Study
by T. Colin Campbell & Thomas M. Campbell

The science is clear. The results are unmistakable. Change your diet and dramatically reduce the risk of cancer, diabetes, heart disease and obesity. Respected nutrition and health researcher, Dr. T. Colin Campbell reveals the truth behind special interest groups, government entities and scientists that have taken Americans down a deadly path.

Book: Baby Greens
by Michaela Lynn & Michael Chrisemer

The typical American diet is a major factor in the epidemic of obesity and poor health in the country's children. "Baby Greens" helps parents establish healthy eating habits in their children--and themselves--through a diet rich in raw foods. A lively mix of education, philosophy, recipes, and activities, the book adapts the living foods approach for all ages and lifestyles. The first part of the book explains the principles of bioenergetic nutrition and shows how cutting-edge nutritional practices--including nutritional individuality, pH balance, terrain testing, and homeopathy--can dramatically improve a child's health. In addition to recipes and resources, the second part offers insights into the holistic approach to pregnancy, breastfeeding, extended breastfeeding, weaning, food experimentation, play, and other daily activities. Written in reassuring, easy to understand language, "Baby Greens" empowers parents to step outside the fast food box and take a proactive approach to maintaining their family's health and well-being.


Book: 12 Steps to Raw Foods
By: Victoria Boutenko

Why do we overeat time and time again? Why do we make poor diet choices while we want to be healthy? What makes losing weight so difficult? These and many other vital questions are addressed in 12 Steps to Raw Foods in an open and sincere dialogue. Based on the latest scientific research, Victoria Boutenko explains the numerous benefits of choosing a diet of fresh rather than cooked foods. This book contains self-tests and questionnaires that help the reader to determine if they have hidden eating patterns that undermine their health. Using examples from life, the author explores the most common reasons for people to make unhealthy eating choices.
Rather than simply praising the benefits of raw foods, this book offers helpful tips and coping techniques to form and maintain new, healthy patterns. Learn how to make a raw food restaurant card that makes dining with co-workers easy and enjoyable.



Book: Fifth Agreement
By Don Jose Ruiz

Since 1997, The Four Agreements has transformed the lives of millions of people around the world with a simple but profound message. Now bestselling author Don Miguel Ruiz and his son, Don Jose Ruiz, collaborate with this powerful sequel The Fifth Agreement. The Four Agreements provides the foundation for breaking thousands of agreements that create needless suffering and with The Fifth Agreement you recover all the power of your authenticity, which is who you really are when you are born.




Book: Horses and The Mystical Path
By: Adele McCormick
On a trip to Scotland, the psychotherapist family team of Adele, Marlena, and Thomas McCormick pioneers in the psychotherapeutic use of horses discover that early Celtic mysticism holds important insights into an equestrian-partnered spirituality. Through serendipitous encounters, they learn that the ancient Celtic people befriended the horse to cultivate the human heart and soul, and that horses accompanied the Celts as they spread their spiritual vision far and wide. The McCormicks soon embark on a wisdom pilgrimage. From India to Mexico to Spain and Morocco, they follow the ancient relationship between horses and humans, exploring a mystical path lit by a spirit of unity and beauty. With help from their horses, the McCormicks learn to integrate spirituality with their psychological training, forming a new, powerful form of healing.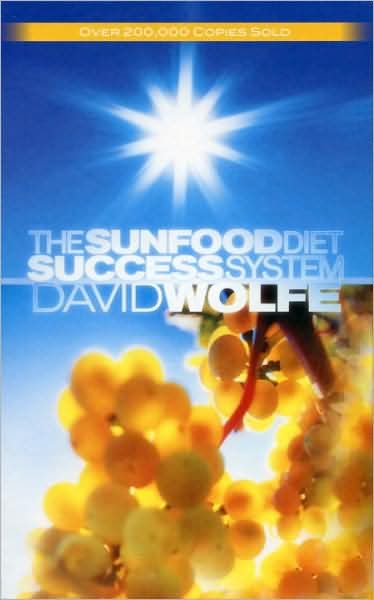 Book: The Sunfood Diet Success System
By: David Wolfe
More than the definitive book on the raw food lifestyle, this entire book, beginning to end, offers the most complete, up-to-date nutrition information – and no where else will you find the kinds of empowering information and insight that is present on every page of this truly inspiring book that is more like a work of art.
The book describes exactly how to adopt, maintain, and stay centered on an 80, 90, or 100% raw-food diet by balancing different types of foods through David Wolfe's innovative Sunfood Triangle. Success is inevitable with day-by-day menu plans, delicious recipes, and the best information available on detoxification, fasting, mineralization and success technology all neatly bundled into one book. Each chapter is filled with inspiring quotes, facts, and tips. Dozens of beautiful, never-before-seen full-color images have been added to this brand-new edition, including many stunning Kirlian photographs. I love this book. Be prepared for nothing less than total transformation!  



Book: The Wish
by: Angela Donovan

You've discovered The Secret, but now find out how to REALLY make all your wishes a reality. Discover a window into who you really are, which of your dreams will work for you (and which won't) and the easy steps you need to take to have the life you've always wanted.
It's time to make your wishes a reality! The Wish will help you to discover the real you, recognise and overcome your deepest fears, and use your unique passions and talents to live an empowered life. The Wish shows you how to boost your life energy and make your wishes happen - dreams need lots of energy to get lift-off! Recognise the dreams that will work for you and those that won't. Learn how to create genuinely good vibes around you, and find out why giving is essential to creating an abundant life. The Wish takes all your anxiety and shreds it. In its place it puts strength, hope, and peace of mind. And it shows you how to build on these qualities to make all your wishes come true.
About Angela Donovan: A friend of our own Samantha Duly, Psychic intuitive Angela Donovan is already known to Australian audiences through radio interviews and Nexus Magazine. She regularly does one hour programs on the US Matrix News TV Network which is broadcast across the UK and Europe on Sky TV.

Book: The Keys to the Universe
by: Diana Cooper & Kathy Crosswell
This latest fascinating book brings forward the knowledge of the wise ancients for practical use. This is part of the preparation for 2012. There are 48 keys and 2 cosmic keys that open up the various energies of the universe. These are sound resonances that will start to wake people up.
The information in this book and the accompanying CD will enable you to connect to the secrets of the animal kingdom, the nature kingdom, the elementals, different archangels and beings of the angelic realms, cosmic Masters, the wisdom centre of the star systems, Hollow Earth, an understanding of the working of the elements and the consciousness of the spiritual laws. These keys also enable you to access your Higher Self and Monad (I AM Presence)



Book: Simple Secrets for Building Self-Esteem & Finding Your True Self
By: Suzanne E. Harrill, M.Ed.

Discover Your True Self.
Be inspired to build a solid foundation of self-esteem, which will improve the quality of your relationships, increase satisfaction with your career, and deepen the meaning and purpose of your life. Learn ways to accept and understand yourself and feel your innate worth and goodness. Discover how to do the inner work necessary to know your true nature.

Take a Self-Esteem Inventory, Find True Power Within,
Accept and Love Yourself Now,  Live Your Life As a Reflection of Your True Self.

Book: Seed Thoughts For Loving Yourself
By: Suzanne E. Harrill, M.Ed.

Daily affirmation book to build self-acceptance, self-esteem, and spiritual wholeness. Psychological and spiritual truths to help guide you on your inner journey whether new to self-discovery or a seasoned traveler.
"A great book that reminds us of our innate worth

and goodness. I use it with my clients all the time."
Nancy Moonstarr, Ph.D. Psychologist
Book: Peace in the Present Moment
By: Eckhart Tolle & Byron Katie
With selected quotations from A New Earth and A Thousand Names for Joy, this stunning gift book combines selected wisdom from two of the most popular spirituality writers of this century with vibrant photos of nature's most colorful gift, the flower.
Conceived by award-winning photographer Michele Penn, who was personally influenced by one of the central metaphors in Tolle's teaching - the flower - this volume contains over 40 full-colour photos of flowers wedded to the core teachings of Tolle and Katie. Each flower and corresponding quote provide valuable insight into such key concepts as living in the moment, gratitude, nurturing the soul, and much, much, more. This is a gift book that will be embraced by those who have been touched by the teachings of both of these spiritual luminaries.


The Four Purposes of Life
By: Dan Millman
For many of us, life seems like a puzzle with pieces missing. We form plans and change them; we choose one path, then another, trying to find the right mate and career, hoping we've made the right decision and that it will work out. At some point, we may even ask the important questions: What is the purpose of my life? How shall I spend it?
This book provides some answers to finally bring your life into sharper focus. First, we have to understand that we are here to fulfil not one but four fundamental purposes: 1. Learning Life's Lessons 2. Finding Your Career and Calling 3. Fulfilling Your Hidden Life Path 4. Attending to This Arising Moment
The Four Purposes of Life was born from Dan Millman's decades-long search to make sense of life. He distills decades of experience into a concise map of the journey - the full scope of what we're each here to accomplish here on planet Earth.
Prepare for a quantum leap in self-knowledge, insight and wisdom to light your way, expand your awareness, and improve the quality of your life. The seeds planted by this remarkable book will bear fruit for years to come.

Book: What does that mean?
By: Eldon Taylor
Asking questions is the closest you'll come to receiving an answer.
Enlightenment is not something that can just be handed to you. The closest thing to it that you can receive are thoughts and questions that can lead you inward in the search for meaning. What Does That Mean? is full of thoughts and questions that do just that. Some insights you may have thought of and then forgotten, and others you may have experienced but simply haven't appreciated.
An old saying asserts that the value of a book is not in what it says but rather in what it does. What Does That Mean? is one of those books that will have a lifetime impact on all who read it. The book squarely faces the many inconsistencies held in our systems of belief, from the sciences to psychic phenomena. Eldon Taylor is willing to speak out without reservation, and without avoiding any so-called sanctities. The result is absolutely thought-provoking at every level, as this work addresses the meaning of life and the ultimate "humanness" of the human being. If you have ever questioned the nature of life, the power of the mind, unexplained events, and other mysteries, you will find this book totally riveting.
Throughout these pages, Eldon shares life experiences that will lead you to revelations about your own life. Perhaps this book's greatest value is that it assists you in remembering who you really are and thereby places you firmly back on the path to personal enlightenment. English writer and poet Joseph Addison, said, "Reading is to the mind what exercise is to the body." If that is the case, then this book is the perfect workout to enrich your thinking. You may not always like what you read, but you will always find the depth of thought wholly provocative.
Book: Naked Chocolate
By: David Wolfe and Shazzie
This is the book that started the raw chocolate revolution. Naked Chocolate is the product of years of research into the world's greatest food. It contains over 60 original, enticing, mouthwatering chocolate recipes.Yes, raw, organic chocolate is good for you. In fact, David Wolfe and Shazzie demonstrate it is the best food ever. In these pages, you will discover the astonishing truth about the world's greatest food.

Chocolate grows on trees! All chocolate comes from cacao beans - the seeds of the cacao fruit, which grows on a jungle tree. Cacao beans taste like dark chocolate, because they are dark chocolate! David Wolfe and Shazzie introduce the phenomenal, enlightening power of cacao beans engulfed in the magic of chocolate! And they show us how to use extraordinary chocolate recipes to achieve higher and higher states of pure joy!
Learn and experience how Chocolate (Food of the Gods) allows you to Eat more while losing weight,Heal and soothe your heart, Increase your sensuality, love life and beauty, Double your joy, Nourish your intellect, Attract prosperity into your life, Experience the world's most wonderful aphrodisiacs and Create the most outrageous beverages, desserts, cakes, ice creams and other fantastic tasty delights.


Book: How to Think Your Way to the Life You Want
By: Bruce Doyle
This accessible step-by-step guide simplifies the complex subject of how your thinking creates your life. You'll delight in learning how thought works, and how your thoughts connect you with the universe. You'll also discover why so many people place such a strong emphasis on the power of thought on the influence of beliefs, and on a positive attitude. In short, you'll learn why thought is a basic building block of creation.
"This is an excellent, simple, and easy-to-understand guide to how thoughts and beliefs work in the universe to create individual life experiences. I recommend it highly." - Neale Donald Walsch, author of Conversations with God.

Book: The Mother of Invention
By: Neale Donald Walsch
In a very real sense, the story of futurist and visionary Barbara Marx Hubbard, told in The Mother of Invention, is the story of the future of all of us. We are all moving through the same process, the book and its subject declare. It is the process of the birthing of our species.
This fascinating tale about an extraordinary woman proves that things just don't happen by coincidence, they happen for a reason - to further the conscious evolution our species!

Book: Secret Language of your Name
By: Neil Koelmeyer & Ursula Kolecki
The Secret Language of Your Name is your guide to unlocking the secrets in the numbers of your name and birth date to reveal your unique personality traits and your path to happiness and success.
A step-by-step guide to discovering: - Your greatest strengths, your biggest challenges and exactly what makes you the way you are! - What makes your partner, friends, boss & colleagues tick! - Which personalities you are most compatible with in love, friendship and at work - The paths most likely to lead to success and satisfaction in your career - How to choose the best name for your baby - one that will enhance your child's natural talents and assets - How different spellings of your name can affect your chances of reaching your full potential - Features nearly 5,000 baby names - essential reading for parents-to-be!

Book: What Happens Next?
By: Jade Sky
In What Happens Next, spiritual medium Jade-Sky shows you that it is possible to feel, sense or even hear your passed loved ones in spirit. In her work, Jade-Sky is asked hundreds of questions about life after death and here she answers them all, such as what happens to loved ones when they pass, including children, parents, partners, friends and even pets; how to recognise signs from passed loved ones; and all about angels, spirit guides and ghosts.
Drawing on her many years of communicating with the spirit world Jade-Sky's sympathetic answers offer comfort and reassurance to anyone who wonders What Happens Next.

Book: Little Book of Life: A User's Manual
By: Neale Donald Walsch
In 1999, Neale Donald Walsch wrote three little books, each focusing on different areas of life: Neale Donald Walsch on Relationships, Neale Donald Walsch on Holistic Living, and Neale Donald Walsch on Abundance and Right Livelihood. Now, 10 years later, Walsch has revised these More...
three books and combined them into one volume. In this little book, Walsch provides his readers with the basic principles for satisfying personal relationships, an inspirational approach to the real meaning of money and prosperity and how they apply to the secret of happiness, and the basics of integrated living--how to live with joy and harmony. This book presents the core teachings found in the Conversations with God series. Warm and inspirational, Walsch's words provide hope and help for readers living in a particularly challenging time.



Book: Future in the Stars
By: Allison Chester-Lambert

Two thousand years ago 3 astrologers rode into Jerusalem on camels and announced that a new star in the East meant a messiah would be born. This remains one of the most successful translation jobs done by astrologers and hopefully this book follows in that tradition. The good news is that you will not need to know astrology to understand it. A master race that surfaced in the Middle East 7,000 years ago gave astrology to us. For a reason, this ancient knowledge, though persecuted and ridiculed has survived inquisitions and various religious dynasties throughout the centuries. New planets have been discovered in realm at the edge of our Solar System. They tell a fascinating story for the revolution of the 21st century. For the good of the population, our world must change and there are some things you will need to understand. The first being '2012'. Wild claims and bad astronomy have fuelled a sensation, but only an astrologer of Alison's experience and capability can truly understand the stars. Alison is able to professionally de-bunk the hype and provide the REAL astrological meaning behind the energy of that special year. Anybody living in the 21st century who is spiritually curious will love this book. A new Industrial and Social Revolution is about to happen. Find out what this will be about. What we can do about it spiritually. And finally, how we can be sure of the ultimate protection of the gods' goddesses and the planets that represent them.



Book: Forgotten Horses
By: Tony Stromberg

If the treatment of horses who are lame, old, crossbreeds, or simply of no further use to their owners reveals some of the worst in people, the horse rescue and sanctuary movement reveals some of the best. Acclaimed equine photographer Tony Stromberg visits this world - where formerly unwanted horses enjoy newfound freedom and a second chance at dignified life - and brings back inspiration in image and words. As with all Stromberg's work, Forgotten Horses gives expression to a magnificent form of life. His photos allow readers to see, hear, and connect not just with horses but with a wildness and spirit often absent from hectic urban life. By remembering the "forgotten" horses, these photos remind readers of the true and lasting gifts all animals offer.



Book:The Healing Gift
By: David Freud & Linda Freud
What is a healing gift? It's the seemingly miraculous ability to identify without stethoscope, blood work, or MRI, but with pinpoint accuracy, what ails a person and what's needed to heal him or her. A few very special people qualify as medical intuitives, and Linda Freud is one of them.
Linda Freud only became aware of her ability to communicate with angels when she began playing with the silver pendulum on a chain that her husband, David Freud, bought for her. She discovered she could find answers to problems depending on the direction the pendulum moved - but she didn't move it! After the couple realized that the pendulum was being guided by angels, giving Linda the power to diagnose and cure body/mind/spirit problems, David set up Metaphysical Systems Engineering?, an 1,800-page database organized by physical, emotional, and spiritual conditions and the myriad ways to cure them. That allows Linda to identify the often complex causes of illness and to channel the best remedies suited to the particular client.
The Healing Gift, which tells the captivating story of Linda's gift, her healing philosophy, and her use of Metaphysical Systems Engineering?, is divided into four parts. The first part describes common physical problems such as metabolic and diet issues that are often the sources of disease, while the second part looks at emotional healing, including treating depression naturally and the effects of stress. The third part delves into metaphysics and reincarnation, which is explained in a truly amazing chapter where Linda channels Sigmund Freud, who is one of her spirit guides. The last section then explores the angelic network that Linda channels. Throughout, testimonials of complex cases that Linda diagnosed and cured provide examples of how she works.




Book: Return of Intuition
By: Kathryn Harwig

Natural psychic sensitivity is often associated with children. However, The Return of Intuition reveals a little-known, widespread phenomenon of profound intuitive awakening occurring in adults - usually around the age of fifty. Bringing this remarkable trend to light is psychic medium Kathryn Harwig, who has helped clients nationwide understand, nurture and embrace their newfound psychic awareness. Their inspiring stories highlight what triggers this life-changing gift - usually illness or the death of a loved one - and how it can be used to aid others, receive messages from friends and family in spirit, and begin life anew with confidence, courage, and clarity. Affirming the joys of aging, this unique spiritual guide offers comfort and support to the elders of our society, encouraging them to reclaim their once-revered roles - as the crone, shaman, and sage - by passing on spiritual wisdom to a new generation.



Book: Power of Sound
By: Joshua Leeds

Customize your sound environment for a better quality of life - Shows how to use music and sound to reduce stress, enhance learning, and improve performance - Provides detailed guidelines for musicians and health care professionals - Includes a new 60-minute CD of psychoacoustically designed classical music What we hear, and how we process it, has a far greater impact on our daily living than we realize. From the womb to the moment we die we are surrounded by sound, and what we hear can either energize or deplete our nervous systems. It is no exaggeration to say that what goes into our ears can harm us or heal us. Joshua Leeds - a pioneer in the application of music for health, learning, and productivity - explains how sound can be a powerful ally. He explores chronic sensory overload and how auditory dysfunction often results in difficulties with learning and social interactions. He offers innovative techniques designed to invigorate auditory skills and provide balanced sonic environments. In this revised and updated edition of The Power of Sound, Leeds includes current research, extensive resources, analysis of the maturing field of soundwork and a look at the effect of sound on animals. He also provides a new 60-minute CD of psychoacoustically designed classical music for a direct experience of the effect of simplified sound on the nervous system. With new information on how to use music and sound for enhanced health and productivity, The Power of Sound provides readers with practical solutions for vital and sustained well-being.



Book: Earth Healer
By: Eagle White

Guide to drawing on spiritual consciousness as a healing tool for planet earth. This is a remarkable and groundbreaking book. White Eagle's teaching has been changing lives for over 70 years, but not for years has there been quite as important or as timely a collection of his teaching as this one. It represents a blueprint for our individual and collective transformation. White Eagle insists that 'saving the planet' need not be a process of fear and reaction, but one of attunement to the natural process of evolution in human awareness. Our very thoughts influence the thoughts of others; our own attention to beauty actually creates beauty. Real love of nature attacks wastefulness; trust in the natural processes of life removes the fears about life and death that create greed and and selfishness. Humanity can and will change. The book also celebrates the harmony of the natural world through the photographs of Bruce Clarke, whose sensitive eye finds beauty in every conceivable natural-world situation. White Eagle's wisdom comes from deep connection with the Native American tradition and the timeless Ancient Wisdom. In this book he offers a conscious process of Earth Healing in which every reader can participate. Far from being one of deprivation, it can be one of joy.



Book: Wonderful Earth
By: Nick Butterworth & Mike Inkpen
We have a wonderful Earth! The Creation story is shown in this colorful book through interactive elements such as lift the flap, turn the wheel, look in the mirror, and more. Kids will have hours of fun as they explore Creation and learn how they can take care of God's wonderful earth.
International bestseller - Over 250,000 copies sold.





Book: Adventures of Lulu
By: Louise Hay

These three stories were written to help todays child grown up with a strong sense of self-esteem and courage. As adults, we sometimes forget that children have many more issues to deal with than we did when we were their age. Theyre constantly being put into the position of making choices, and are steadily being bombarded with news about the critical state of the world. How children handle these challenges is a direct reflection of how they truly feel about themselves. The more a child loves and respects him- or herself, the easier it will be to make right choices.Full-color on every page.



Book: Pick-A-Woowoo: Angel Steps
By: Lidija Pretreger & Rose Carolyn Maree

Through five easy steps Paris learns how to call upon Archangel Gabrielle ...the Angel of messages. Paris wishes to share with her Nana, how much she still loves and misses her. Paris is overjoyed when Nana, in return, gives her some very special messages. "Angel Steps sensitively illustrates the process used to heal, comfort and send a message of love."

Read Together 3-6 yrs / Read Alone 5-6 yrs




Contact us for any information you require, including the availability and prices of titles.
---
---